Six Side-Hustle Mistakes Keeping You From Finding Fabulous Followers
At the time I'm writing this blog as a biz coach for female entrepreneurs; I'm reflecting back on how God has truly favored me in the past years. I've been blessed to have coached thousands of Boss Babes on how to turn their biz fear into a positive profitable biz opportunity.
And I know exactly what it feels like to dream about starting a business, not have enough money to make it happen, get a well paying side-hustle to support the dream only to struggle later with the decision of staying with the side-hustle or become a female entrepreneur.
Back story, when I re-branded myself to become a biz coach I had this pretty cool side-hustle that paid me $2-15K per client; doing something I really enjoyed. And that was the problem. The money was too good and too easy but, it wasn't fulfilling. But the money wasn't the problem, I felt worthy of every dollar I received. The problem was I felt off purpose. So, I started turning the side-hustle opportunities down and some of my friends/family thought I was crazy.
My Side-Hustle Was Stealing My Biz Dream
Every hour I devoted to preparing and working on excelling at my side-hustle; that was another biz goal down the drain...moving my biz dream further and further away. So, I ended up turning down a $10K client offer because even though I could've done the work, enjoyed the work; the passion wasn't there any longer. It didn't feel like my God led purpose. So, I stopped the side-hustle cold turkey, went from Dream Chaser to Achiever and never looked back.
Borrow My Confidence Sis!
Gurl, I want you to have so much confidence in your biz dream and goals that when you have big money rolling in from your side-hustle...all you can think about is how fast you can invest it into your business so you can finally turn your dream into a reality.
So, I'm giving you permission to borrow my confidence so you can feel more prepared to tell your side-hustle; thanks but, no thanks I gotta business to run.
Today, I'm sharing the top 6 side-hustle mistakes that hold female entrepreneurs back ESPECIALLY when trying to transition from dream chaser to achiever.
(Be sure to read to the end because #6 is the sneakiest of them all!)
While you're reading, think to yourself which side-hustle do you feel you're experiencing right now? Watch this little video which will empower you to tell that side-hustle see ya...
Side-Hustle Mistake #1: Not including your side-hustle into your biz plan.
You are killing your biz dream gurl when you don't specifically outline how your side-hustle will contribute to your biz plan. It's scary letting go of consistent income; I get it. But being a female entrepreneur is nothing but one big risk all the time; get used to it. The best way to ensure your side-hustle is viewed as an investment to support your biz dream rather than your job is to map out exactly how you will use the funds to build your biz, scale your biz and how long you'll use the job.
So yes, absolutely get a side-hustle. But, once you achieved the goal set for this resource; let it go.
Side-Hustle Mistake #2: More comfortable talking more your side-hustle than biz dream.
If your biz dream isn't coming as fast as you'd like; take a look at what you're saying about it. There's a TON of truth when they say talk about your dreams because it's accountability; people are going to ask ya how's it going. And if you're still talking about how your day was at your side-hustle and not how your biz launch is progressing... it's going to take your biz dream longer to become a reality.
Now, I could talk all day about how to use prayers, faith, spiritual peace journey, positive self-talk, positive affirmations and all of that to help you stay focused daily on your biz dream but, for now I'll share these two must-haves...
Create your core biz principles. Use these daily to remind you to stay on purpose.

Find your Biz Bestie. Get you a business minded friend that will hold you accountable.
(If you want to learn more about planning goals monthly with a Biz Bestie that will hold you accountable with strategic biz steps, then you'll want to check out our on-line and in-person goal planning members club I co-founded with my bestie Juju Rafii the Biz Bestie Brunch)
This month, we chatted about the 6 Business Essentials you need to Make Cent$ of Your Biz so you can create effective processes to reach your highest level of success, determine steps to take that will simplify your practices, streamline your workload, and empower you to grow your current business by leaps and bounds.
Inside this members club, you receive 1 monthly Masterclass, 1 Planner and 2 trainings each month based on proven successes we've both had in our businesses. This month, Juju shared strategies on how she was able to build her networking empire, The Empowered Boss Babes which has upwards of 5K+ female entrepreneurs meeting weekly to connect in-person and on-line. Specifically, she shared the 10 basic business essentials needed for success, how to commit to 1 business at a time and how to create a solid-business blueprint.
Then I came in sharing the secrets to how I co-authored a Best-Selling Book, received my $5M joint venture contract, $15000/ guest speaks and clients paying me $5-12K+. Specifically, I shared the importance of having reliable core principles, a solid-proven business plan and a strong brand story using my signature frameworks as templates.
If you want to achieve success faster; we'll show you exactly how to make it happen.
Side-Hustle Mistake #3: Sharing the right information to wrong people.
Let's say that you have the most awesome biz idea. It won't matter if you're sharing it in the wrong place. You will not attract your ideal audience that way.
You really have to get your brand story down solid or you will be wasting a lot of time, energy and precious breathes on people that could give a rats butt about what you're saying.
Make sure you are sharing your brand message in the right place, with the right audience in the way they most want to hear it.
Side-Hustle Mistake #4: Remember not all money is good money.
When you are making the money you've always wanted but, it's coming from your side-hustle...
You gotta ask yourself a tough question; am I satisfied doing this everyday OR do I still need to pursue my biz dream?
All of that side-hustle money is a distraction if you are indeed wanting to become a female entrepreneur. And listen, if you don't feel this is the right time to become a Boss Babe; that's OK too.
Be honest with yourself on what's happening so you're not wasting energy, time or money. Being a female entrepreneur is not for the faint of heart. If you like the regular every 2 weeks I'm getting paid type of life; being a female entrepreneur is not for you.
But if striving for a dream that birthed from your heart with skills that you know only God give ya which will create a more comfortable lifestyle for you, your family and community is what sparks your soul daily- gurl you gotta let that side-hustle go.
The important thing is to do what makes you feel most at peace, joy, contentment and on purpose.
Side-Hustle Mistake #5: Believing success comes fast.
You know I'm the positiveness and the queen of you can make the impossible -possible. But gurl, success is not something that typically happens uber fast. You have to plan for this in stages using solid-proven business essentials, client attraction strategies and social media.
A lot of women see the success of others like myself and think oh wow yes that's the life; if she can I can too. Which is true-ish. Gurl, I want you to know that all the really cool wins I had like...
Received a $5M joint venture contract within 6 months of starting my business; not typical.

Published my first book and asked to co-author a book which became a best-seller; not typical.
A huge mistake women make is jumping into business without a solid biz foundation of how to grow your business the right way with the tools, teams, plans, etc. all the things you need. This is needed because if you don't, when that one cool big win happens - it'll be just that one big win.
I had great success because of the Lord and a solid 6 step biz plan (WILDER Success Strategy: ask me how you can use it in your biz) which allowed me to capitalize on my wins as they came.
If you want to attract a wider audience of people to your biz and make sales faster; you need a solid-biz plan that helps you build and scale your biz.
Your biz plan as a basic must include branding, marketing, sales and social media.
Side-Hustle Mistake #6: Have a sales goal.
It's essential to your biz success that you have an actual sales (number) goal of how much you want to make. That's going to help you determine how long you need to work that side-hustle.
For example, if you wanted to make $10K in a month but you're working at McDonalds as a cashier; you might be disappointed if you don't reach that goal based on your salary.
But if you knew how to invest that McDonalds check into a biz coach, marketing, etc. the right way for lead generation; you'd be a bit more enthusiastic about that side-hustle to biz dream conversion.
So knowing your sales is key to how long you will work your side-hustle; another #must!
You Can Do This Sis!
Stay Blessed Beautiful 💞 Gwendolen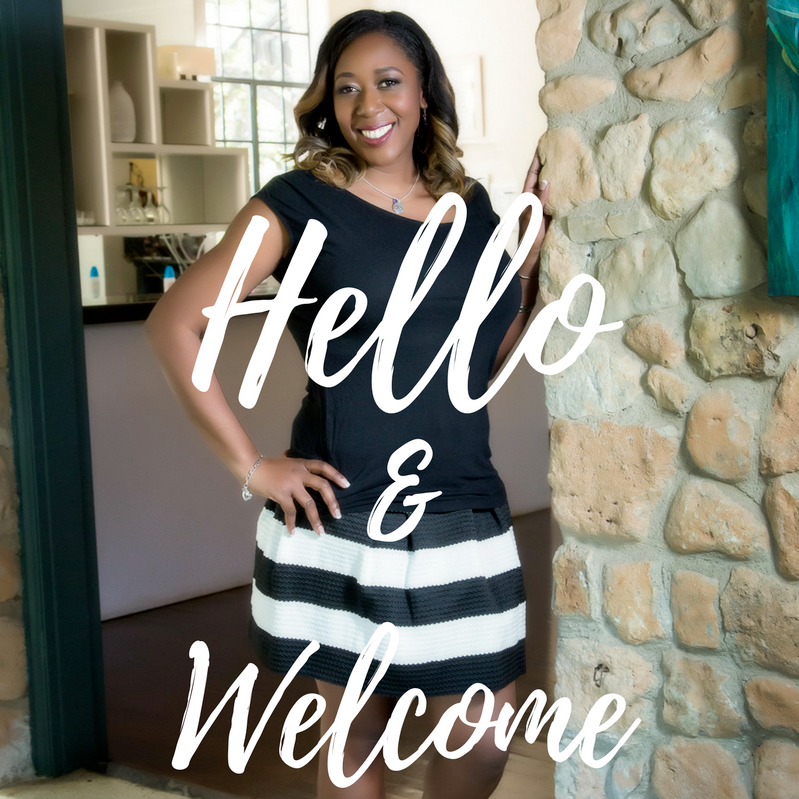 THIS BLOG WAS WRITTEN BY
GWENDOLEN WILDER
Gwendolen Wilder is a highly sought-after business coach who specializes in helping struggling and overwhelmed female entrepreneurs tell their biz fears to KICK ROCKS!
Published Best-selling Co-author and featured on international, national and local platforms including the Carrie Green Female Entrepreneur Association, Fox 29, News 4, KSAT 12, San Antonio Living, Women of Influence, etc. she mentors her community of 35,000+ female entrepreneurs and followers teaching them exactly how to turn a biz fear into a positive profitable business opportunity.
Before You Go,
Check Out Finding Fabulous Followers…
Everything you need to know to turn your biz fear into a brand story using social media so you can attract more followers in 7 days or less!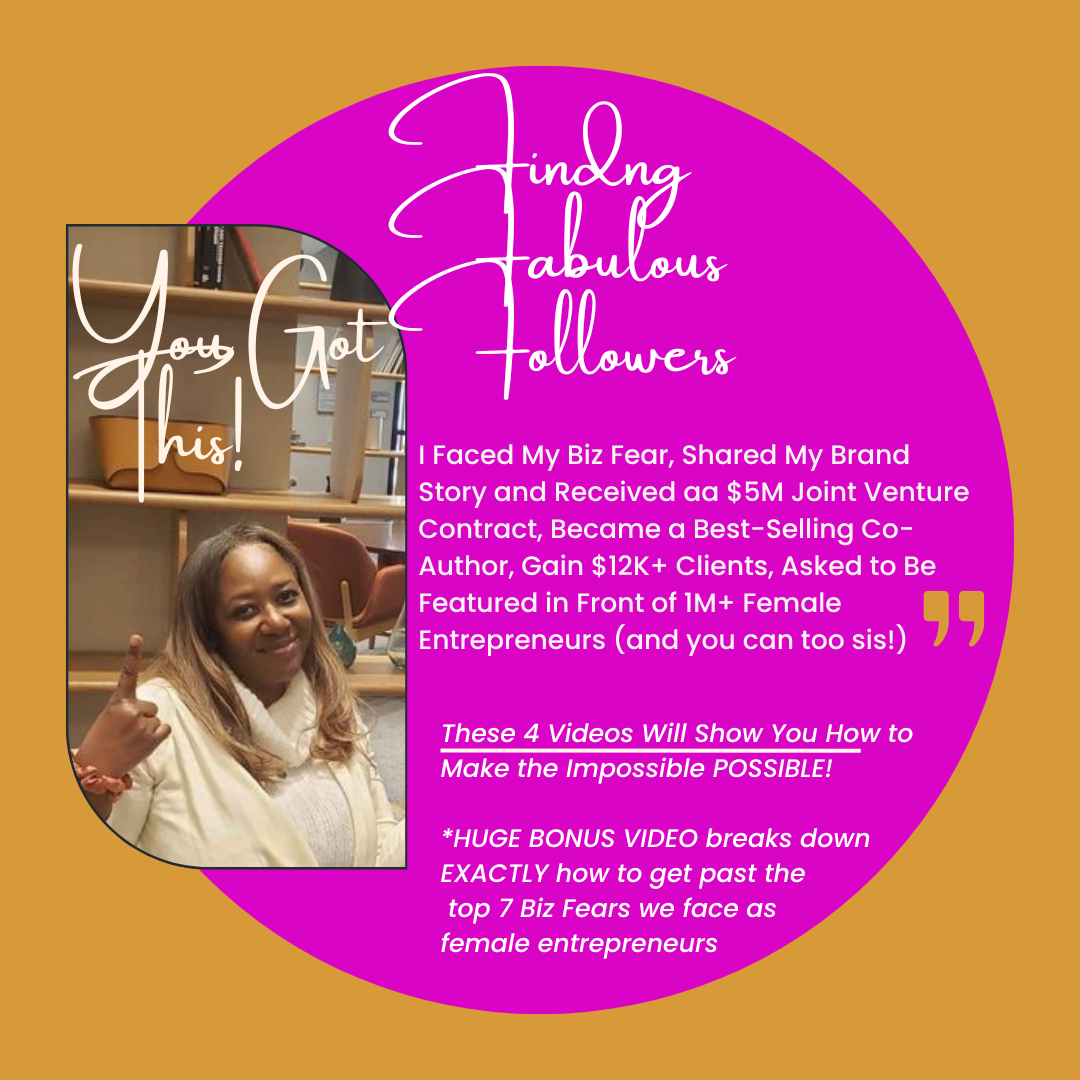 ---
Next Steps to Achieve Wilder Success:
Below is a quick list of Gwendolen's top recommendations to empower your girls trip to success to go from Dream Chaser to Achiever faster. Also, request a complimentary (one-time opportunity) video chat with Gwendolen book on her private calendar so you can share your biz fears, discuss your goals and receive Gwendolen's #1 strategy which will help you move past your obstacle and achieve your success faster.
And remember you can make the impossible Possible!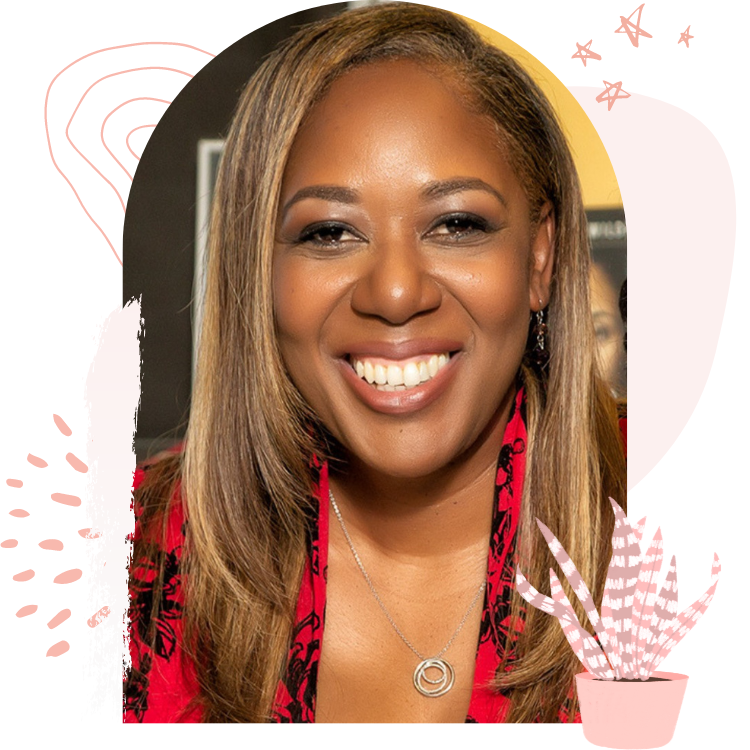 ---
Accomplish Your Goals Faster with Us Sis🤩
When you hang out with confident, successful, powerhouse women, like Gwendolen and her Biz Bestie Juju inside our Biz Bestie Brunch... the Wonder Woman superpowers rub off on you too sis!
Hang with us beautiful and get biz success too.